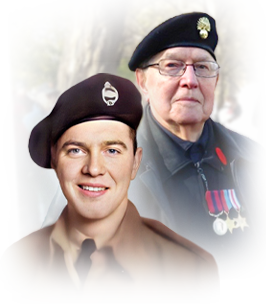 Obituary of Stu Johns
Please share a memory of Stu to include in a keepsake book for family and friends.
Stuart Louis Johns 1925-2023 A118218 Born February 11,1925 at home in Walkerville, Ontario to Elmer and Annie Johns. Raised in Walker Homesites, attended Walker Road School, Mayfair and Walkerville Collegiate. He worked summers on his Addison grandparent's farm in Edgar, Ontario. He loved farming, nature and his own back yard. Joined the Army in 1943 like his brother Tom Johns (8th RECCE). He was assigned to the 4th Canadian Armoured Division, Canadian Grenadier Guards as a loader/operator of a M4 Sherman tank. He saw combat in France, Belgium, The Netherlands and Germany. He was promoted to Lance-Corporal and crew commander. He received a citation for and was awarded the Distinguished Conduct Medal for service during an action at the Küsten Canal, Germany. He volunteered for Pacific Service in May 1945. After the war, he married Flo Draper his childhood friend and neighbour on August 15, 1945. Attended the Haileybury School of Mining, worked in Timmins and returned to Windsor to raise his family. Worked as a Stationary Engineer at Hiram Walker and Ford Powerhouses and retired in 1987. In retirement he proudly travelled to NW Europe with his wife, daughters, grandchildren and nephew Bill and nieces Cathy and Judy. He died November 9th, 2023 in his 99th year. Predeceased by his wife Flora Belle Johns (November 15, 1997). Father to daughters, Nancy (Pete Root 2016), Jo-Anne (Rick) Diotte and Beth. Grampa to Stuart (Val) Diotte, Laura (Andrew) Strahl, Kevin Diotte (Natalie Whitney), Rory (Sara) Sturdy, Devin Sturdy (Sean Waite), and Amy (Barry) Martin. Great-Grampa to Blake and Hazel Diotte, Chase Sturdy, Lachlan, Niall and Isabelle Martin. Special uncle to Tara Breckles (Thompson) who has honoured all of his final wishes. Also survived by sister-in-law Viny Duguid (Draper) and many nieces and nephews. Cremation was held on Remembrance Day. A private family burial will be held later. The family ask that any donations be made to the Juno Beach Centre in France, charity of choice or simply read a poem by Robert Service or Robert Burns. From 1939 to 1945, the people of Canada made enormous sacrifices to keep our world free for generations to come. Since June 2003, their contributions are being recognized through the establishment of the Juno Beach Centre in Courseulles-sur-Mer in Normandy, France. Donations have made the dream of the Juno Beach Centre a reality. Anyone who enjoys a better way of life today because of the sacrifices of Canadians during the Second World War can show their appreciation by contributing to the museum and dynamic place of learning that is the Juno Beach Centre. Please note that Canadian Tax Receipts can be issued in most cases. https://www.junobeach.org/donate If you prefer to donate offline, cheques can be made payable to the Juno Beach Centre Association and sent to: Juno Beach Centre Association, 44-760 Brant Street, Burlington, Ontario, L7R 4B7.


3260 Dougall Ave, Windsor ON | Phone: 519-969-5449 | Email: info@cremationsociety.ca