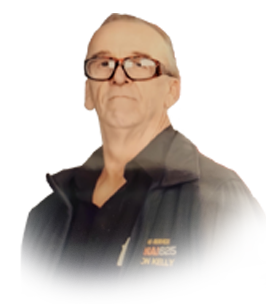 Obituary of Bryon Marc Louis Kelly
Please share a memory of Bryon Marc Louis to include in a keepsake book for family and friends.
Bryon Kelly ~ March 26, 1958 - September 22, 2022 My Dad was the light of my life. Even as a little girl, I remember him making me laugh so much I would cry. He had a silly, or "goofy" as he'd put it, sense of humour that rubbed off on anyone that was near him. People didn't stay upset around Dad for too long. No one was like dad. He was my biggest inspiration and a true hero to me and my siblings. We all would lean on him during the toughest times and he was a rock that never let us down. The strength he possessed wasn't flashy or in your face. In many ways he was a quiet, unassuming man who just got on with things. But it was beneath the surface that his principles and determination lie. That was most evident in how he put us, his family, first and the way he made sure we were all protected, no matter what. His friendships were also very important to him. He had, not one, or two but several lifelong friendships he's held since childhood. People loved our Dad, it was easy to love him. He was an honest, loyal, and selfless man that never really complained much about anything and you could always count on him no matter what. Especially if what you needed was a good laugh; oh, how much he would make me laugh. I will hold on to those memories we made forever. Although, it's so hard to imagine a life without him, grief, I've learned, is really just love. It's all the love you want to give but cannot. All of that unspent love gathers up in the corners of your eyes, the lump in your throat, and in that hollow part of your chest. Grief is just love with no place to go. But, a life without love is like a tree without blossoms or fruit. Dad: Your love, your patience, your understanding, your wisdom and your amazing sense of humour will live on inside us forever. You have given us gifts that are more precious than any of the riches in this world. You carved your name on hearts, not your tombstone. You will be remembered for your life, and certainly not your death. You etched your legacy into the minds of others and the stories they share about you. Painful as it is to bid farewell, the wound is the place where the light enters the soul and so with that you will live forever as the light in our hearts, though, we will all still miss you dreadfully. We love you so much. Love your cherished family ... Daughters Rachael Kelly with Johnny Hicks and Stephanie Kelly-Air and husband Max. Best friend Debbie Mann and mother of sons Davie Mann with wife Ami, and Bryson Mann-Kelly. Beloved grandbabies Averie, Nevayah, and Makayah. Loving Brother to Christine Kelly and Uncle to Kelly Sullivan and Adrian LaLonde. And all your brothers you shared a remarkable 37 years of loyal service with at the Labourers Union Local 625 LiUNA.


Share Your Memory of
Bryon Marc Louis
3260 Dougall Ave, Windsor ON | Phone: 519-969-5449 | Email: info@cremationsociety.ca